Today marks the birthday of John F. Kennedy and my second
annual homage post to JFK
. To date it is the most popular post on Seersuckered Sailor, but considering his legacy and style that's not too surprising. Last year I looked at the style of this interesting gent, but that's not his only contribution to the prep world. Many people know he was a sailor, but few knew how avid he really was.
All throughout his childhood Jack sailed small boats and won some events- including the Nantucket Sound Star Class Championship Cup in 1936, and the MacMillan Cup and East Coast Collegiate Championships in 1938 (with his brother Joe). The first boat he owned was a 62 foot Sparkman & Stephens yacht named
Mantou
, that he and his family found while at the U.S. Coast Guard academy.
In addition to Mantou, JFK owned 3 other sailboats: Flash, Flash II and Victura, as well as 2 powerboats a classic commuter Marlin, and Honey Fitz, possibly the most notable. On the weekends president Kennedy would often slip off to the Cape or Hyannis to sail for leisure with friends and family and the water became more of his home than 1600 Pennsylvania Ave. Even when not on the water sailing was always on the mind of the 35th president. Also famous for doodling JFK would often draw tiny pictures of his boats and other silly cartoons, and the last thing he ever drew right before his assassination was a small illustration of his pride and joy Victuria on his hotel notepad. So here's to JFK's true love.
See, even future presidents right their own sunfish. Nobody's above natural laws of sailing. (via)
Jack and Jackie, June 1953 on Cape Cod (via)
Jack and Jackie in Cape Cod in 1957 (via)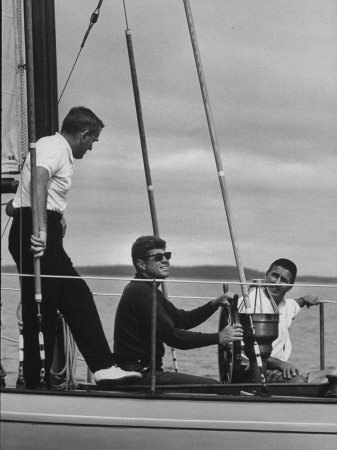 JFK and brothers on Victuria (via)
JFK and Brother aboard family boat Victuria. Built and purchased in 1932 it was a 15th birthday present from his father Edward. It was JFK's favorite boat. - (via)
Jack and Jackie aboard Victuria in 1953 (via)
JFK sailing off Hyannis Port aboard Victuria with family in 1959 (via)
1962 America's Cup Race at USS Joseph P. Kennedy off Newport, Rhode Island (via)
Mid-regatta wave to the crew of "Weatherly"- '62 America's Cup (via)
"I really don't know why it is that all of us are so committed to the sea, except I think it is because in addition to the fact that the sea changes and the light changes, and ships change, it is because we all came from the sea. And it is an interesting biological fact that all of us have, in our veins the exact same percentage of salt in our blood that exists in the ocean, and, therefore, we have salt in our blood, in our sweat, in our tears. We are tied to the ocean. And when we go back to the sea, whether it is to sail or to watch it we are going back from whence we came."
- President John F. Kennedy- 1962 America's Cup